Manko Waterbird and Wetland Center's new virtual tour lets you explore the ecosystem of the mangroves and tidelands with the tip of your finger.
At Manko Waterbird and Wetland Center, we wanted to make our observation boardwalk accessible to anyone, anytime, anywhere. That's why we launched our free virtual tour "Touch and search".
Launched on May 20th, 2022. Click on the image below to access the tour.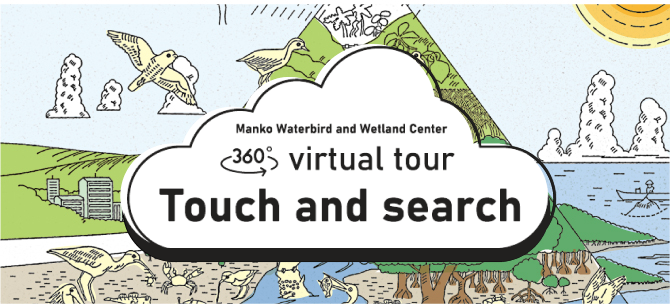 Title: "Touch and search" 360 virtual tour
Release date: May 20th, 2022
URL:http://vtour.manko-mizudori.net/en
"Touch and search" is a virtual tour that lets you explore the wildlife from an observation boardwalk. In each of the stops alongside the tour, you can rotate the camera 360°and zoom in to find plants and animals. You can also learn about the creatures living in the tideland through photos and videos along the way. All of this without leaving your home and just with the tip of your finger.
Immerse yourself in nature and see the mangroves and tidelands as if you were walking along an observation boardwalk.
Find all the plants and animals to complete the mission.
Enjoy the experience of exploring by yourself instead of a typical tour.
Loads of content await you to keep enjoying and learning about nature.
How to play "Touch and search"
Find the plants and animals habiting the tideland and the mangrove forest.
At the entrance, Kuro and Tomii, the official mascots of Manko Waterbird and Wetland Center, have a mission for you. Of course, you could also just walk along the observation boardwalk, but we thought it would be more fun if you tried to find all the plants and animals. Think about how they live and where they might be. Pay special attention to the landscape, they could be hiding anywhere…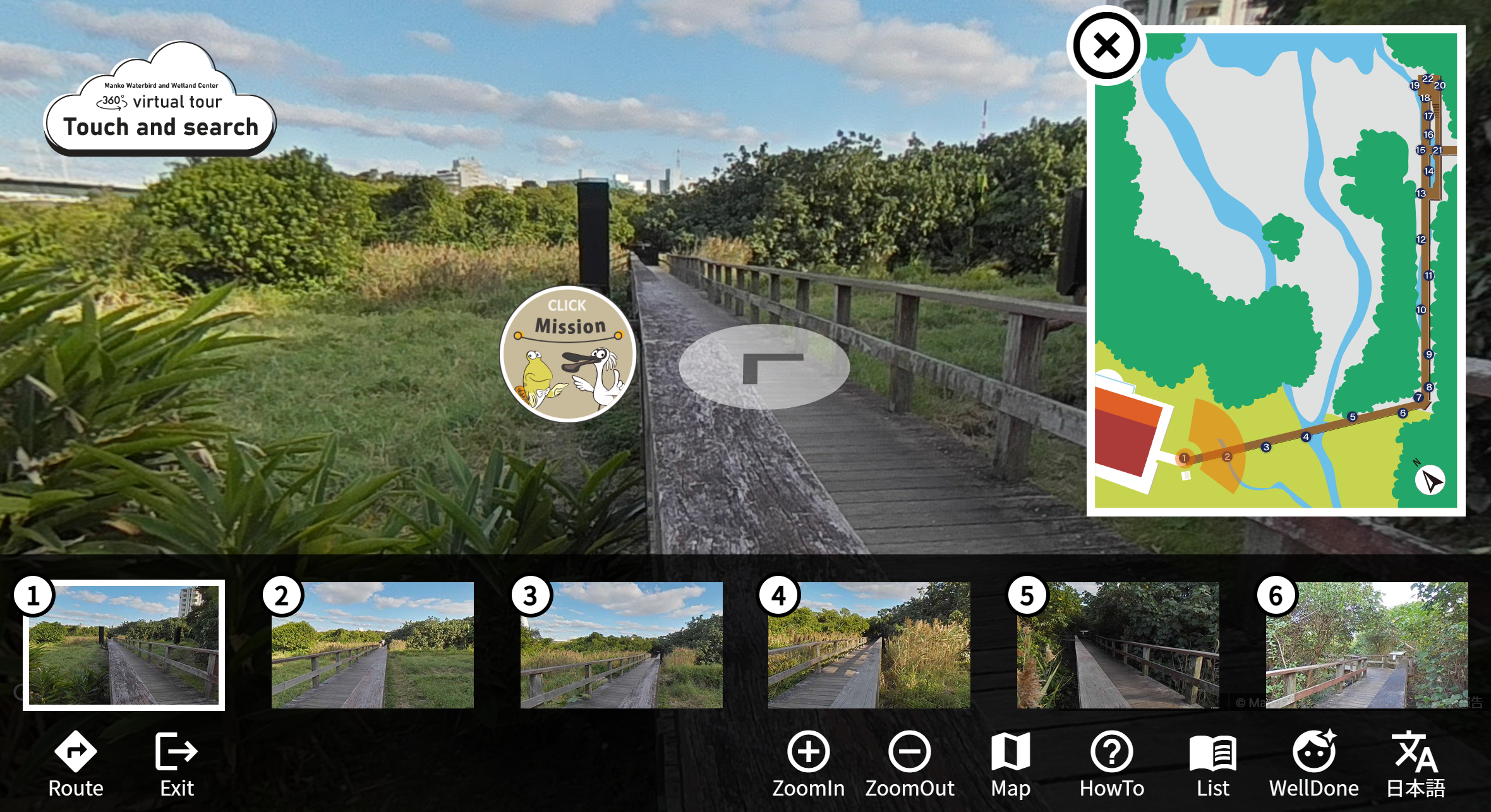 Let's learn the secrets of a good exploration
You can find a lot of resources along the way, from information boards to photos and videos of the plants and animals. Pay special attention as you may find some valuable scenes. Wander around and ask yourself questions on the "whys" and "hows" about the different plants and animals.
We are planning to add more plants, animals, and videos.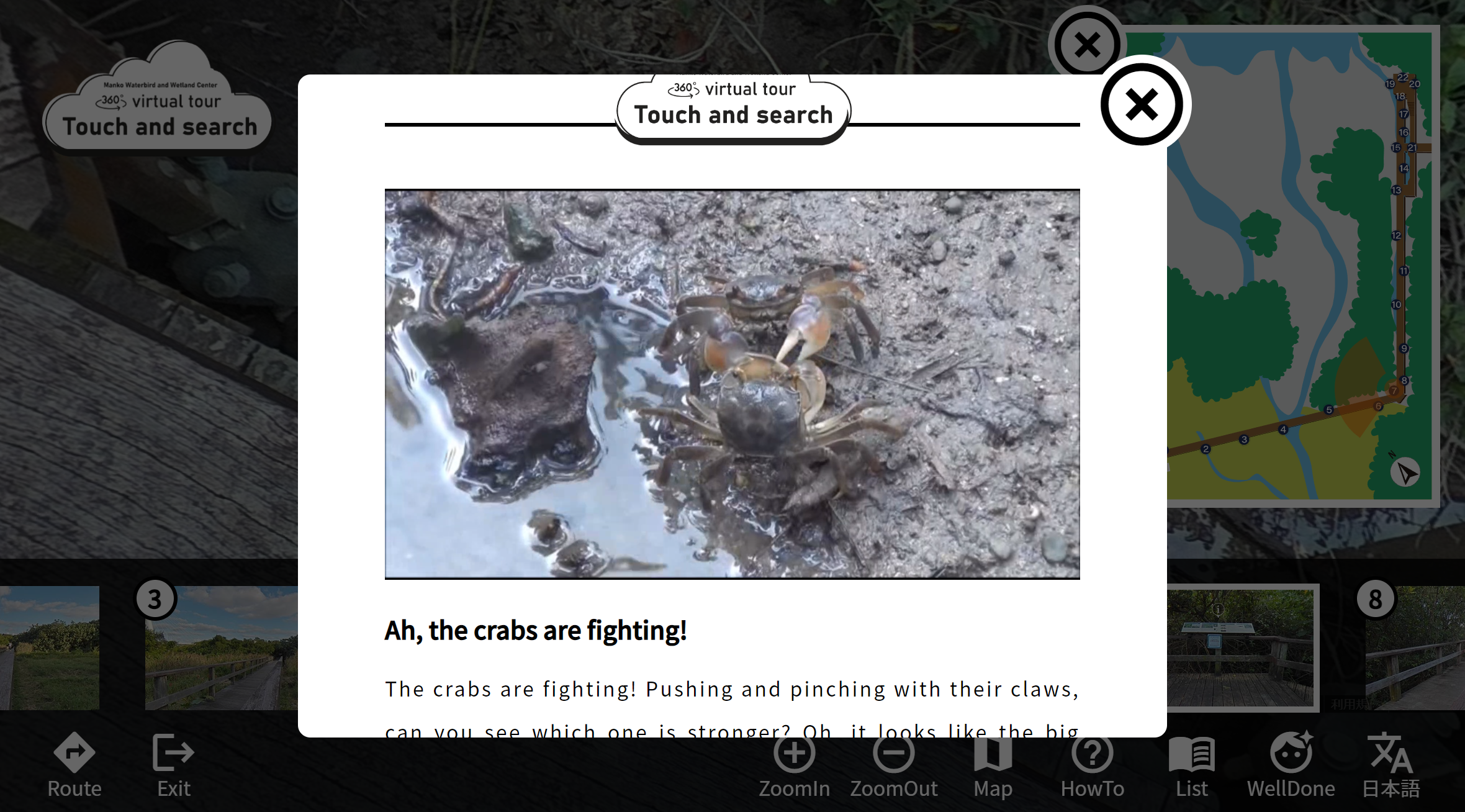 ---
Advice for guardians and teachers
We have purposely made some parts of "Touch and search" a bit challenging to foster attention to details. When looking for animals and plants in nature, there are important details such as differences in shape, color, size, and footprints. We often try to make our explanations easy for the children to understand. However, by doing so, we may also be stealing from them the opportunity to think for themselves. We believe that nature is not something that can be entirely taught, but something that should be perceived and thought about by oneself. Indeed, this can apply to a virtual tour as well. As an adult, you can act as a facilitator for the children's imagination by asking them questions such as "why" or "how". We made this virtual tour while imagining the conversations between you and the children. So, please, talk, imagine, and enjoy "Touch and search". And, of course, we would also be happy if you decided to go out and explore nature as well.
---
How to use
"Touch and search" is available for computer, smartphone, and tablet as well as for the following operating systems and browsers.
[PC&Mac]
Chrome / Edge / Firefox / Safari
[iOS&Android]
Chrome / Safari / Android Webview / Samsung Internet
---
"Touch and search" 360 virtual tour
Planning and production: Manko Waterbird and Wetland Center
Website design: Shigeo Nakamoto
Website supervision: Norikazu Shikatani
■ Inquiries about the site
Manko Waterbird and Wetland Center
TEL:098-840-5121 E-mail:inquiry☆manko-mizudori.net *Please change ☆ to @